Bio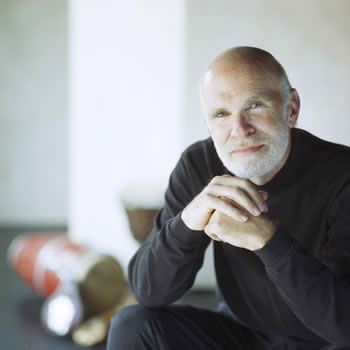 Michael Fitzsimmons
Performer, composer, and teacher
A self-taught percussionist, Michael mastered the art of musical composition.  'Sunshower' his first recording released in 1987 was composed while living in Arkansas in a small rural community.  The influence of nature and a spiritual awakening helped to bring this first musical masterpiece to life. 
'Joydance followed in 1990, featuring a wide variety of percussion instruments from around the world.  'Joydance' showcased what later came to be recognized as Michael's unique genre, a fascinating blend of world beat, fusion and 'get up and move' rhythms and melodies.
Michael Graham joined him in 1992 to produce 'In Medicine River' (Coyote Oldman Records).  One of the native American flutes in this album was made by Graham, exactingly recreated from a native American museum flute.  Graham gave the flute to Michael, and it is currently a key element in Fitzsimmons' Drums of the World performances.
'Skin on Skin' was the next album produced in 2002, which resulted in Michael's Fellowship Award from the Nebraska Arts Council. 
Here are excerpts from Bill Binkelman's international review on Wind and Wire in 2003:
"If you think an album comprised mostly of various drums, percussion and flutes can't be mystical, haunting and beautiful as well as rhythmic and vibrant, you obviously haven't heard Skin on Skin from master drummer/percussionist/flutist Michael Fitzsimmons…. 
The album opens in high-spirited fashion with the aptly-titled "Holy Cha Cha," set aflame with pulsing hand drums (sounding like bongos), shakers, and assorted tuned percussion (so that the various drums have a music quality to them) …
Interestingly, Skin on Skin is not a 'loud' recording.  Somehow, even when Fitzsimmons is lighting it up, there is a subtle 'feel' to the music.  It's not muted, it's just somehow softened.  When I have heard other drum-based recordings, frequently they wear me out, literally.  I end up suffering ear fatigue, but not with Skin on Skin... This is percussion and drums played by one of the best on the planet – bar none.  Throw in his prodigious flute talents as well and you will understand why this was one of my favorite recordings of 2002.  Skin on Skin merits my highest recommendation."
'Water Flows Over Me' released in 2006 was voted as one of New Age Reporters top releases of that year.  This was Michael's first recording featuring the rare and unusual Hang, a hand struck percussion instrument reminiscent of the steel drums of Trinidad.   
An excerpt of the 2006 review by Bill Binkelman, Wind and Wire:
I've been a fan of Michael Fitzsimmons since I had the good fortune to purchase Light in the Village… Using an assortment of drums, percussion, wind instruments, and voice, Fitzsimmons delivered a wonderfully unique exploration of music stripped of artifice and reduced to a man playing an assortment of instruments with obvious joy and a passionate love of making music…
On his latest release, Water Flows Over Me, Fitzsimmons has discovered a new hand percussion instrument, the hang, a metal object that has a sound resembling a cross between a steel drum and a kalimba. After just one playing, I was convinced that this CD was the crowning achievement of Fitzsimmons' career so far. The music is filled with such wondrous joy and exhilaration, yet it's still gentle in spirit (even when fast in tempo) and easy to listen to without raising one's blood pressure. What a splendid exploration of the pure love of playing instruments, as the back cover states, through simply "...breathing and pounding!" 
 
Michael's latest release, 'Islands in Paradise' in 2016 features the Hang and a variety of Latin rhythms.  Like his other musical compositions, there is something almost hypnotic as you listen to magical melodies infused with the Latin beat that puts you right there on the beach!  It is a musical trip to paradise.
When not composing and performing to audiences of all ages, you will often find Michael conducting workshops and assemblies in schools, amazing teachers by holding the attention span of kindergarteners all the way through high school students, and engaging them in the marvels of rhythm, something he has known all his life.